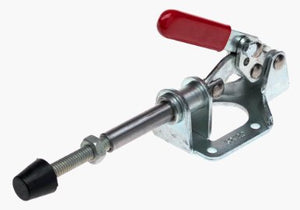 Secure and release with lever

Instant portable bench clamp

Adjustable rubber pressure tips

Stain resistant hand grips

Toggle mechanism allows maximum clearance
Designed specifically to secure the setpiece and release it instantly with a light throw of the lever. Ideal for set pieces when they must be secured and kept in place. All clamps are provided with adjustable rubber pressure tips (some places charge extra for this). 
Hand grips are covered with an oil and stain resistant red vinyl or red plastic. Steel parts resist corrosion. Flanged washers are supplied with all U-bar and open-bar models. Weld-on bolt retainers are supplied with all solid-bar models. Toggle mechanism designed to allow maximum clearance.