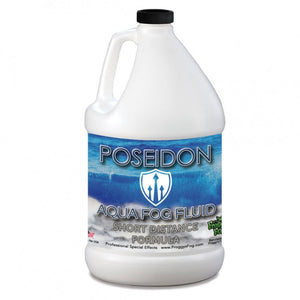 Froggys Poseidon Aqua Fog Fluid is designed for use in ultrasonic type low lying fog machines. This fluid is designed to latch on to the moisture produced by the Ultrasonic machines and slowly allow for evaporation. The short distance formula is designed for stage and studio.
DENSE, LOW-LYING FORMULA
Poseidon Aqua Fog Fluid will create a thick blanket of fog that hugs the ground. Great for on stage effects, creepy graveyards, and other low fog applications. 
CREATED FOR ULTRASONIC MACHINES
This fog fluid was designed to latch onto the water molecules generated by the Ultrasonic Machines. This helps to create a perfectly consistent low-lying ground fog. 
NON-TOXIC
Each ingredient in our formula is 100% FDA approved. No residue, no odor, no mess.