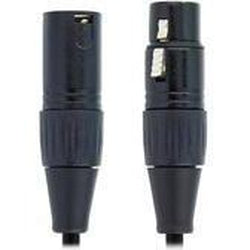 A high-performance, rugged cable for professional use. Cables come at many price points. We have chosen Cable Up for it's quality to price ratio. Sometimes price isn't everything to getting a good XLR cable.
From the Manufacturer
Cable Up's rugged Industrial line features high-performance, balanced analog microphone cables. The soldered XLR connectors are fitted with gold-plated contacts for reliable professional use at a competitive price. All Cable Up® Industrial cables are covered by a 1-year unconditional warranty and a limited lifetime warranty against defects in material or workmanship.
Features
25' in length
High-performance, balanced analog mic cable
Soldered XLR connectors
Gold-plated contacts
1-year unconditional warranty
Specifications
Cable:

No. of Conductors: 2
Conductor Gauge: 22 AWG
Stranding: 26x36
Shield Type & % Coverage: B.C. Braid, 78%
Overall Diameter: 0.245"
Nominal Capacitance, Conductor to Conductor: 19 pf / ft
Nominal Capacitance, One conductor to shield with other conductor tied to shield: 35 pf / ft
Jacket Thickness: 0.045"
Insulation Thickness: 0.018"
Weight per 100 ft: 3.2 lbs

Connectors:

Soldered connectors with gold-plated contacts
Melt lacquer shell