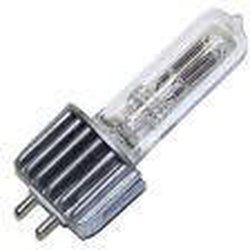 The OSRAM Sylvania HPL model lamp is used in all of the ETC Source Four fixture line; Source 4 Par, Source 4 Zoom, Source 4 ParNEL, Source 4 ERS, Source 4 Fresnel, and can be used in the Altman Phoenix. The 120v versions were designed for theatres that have a voltage level at the lamps over 115v. This may occur when plugging architectural fixtures directly into a wall for example.
HISTORY:
The HPL, or High Performance Lamp was developed as a way of producing the same amount of light from a lower wattage lamp. It's success comes from the fact that its compact filament design focuses all of the light from the most efficient location in a reflector. As a result, a 575 watt HPL lamp can provide the same output as the previous 1000 watt lamps for Ellipsoidal Reflectors. The HPL was proprietary and designed for the Source Four fixture from Electronic Theatre Controls (or ETC for short). Who can be found at
etcconnect.com
This lamp uses 4 filaments, which is where the product line found it's name; Source 4.
CHEAP COPYCATS:
Don't be fooled by other online retailers who have rock bottom pricing on HPL lamps that may be manufactured by low quality companies. We only stock and sell OSRAM Sylvania lamps because we know their quality is top notch and that you are buying the best lamp for your buck.