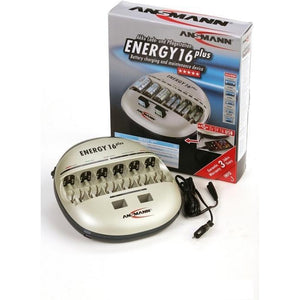 Charging the batteries: Charging option for 1-12 Micro AAA / Mignon AA, 1-6 Baby C / Mono D, 1-2 9V Block NiCd/NiMH rechargeable batteries.
Maintaining and refreshing the batteries: The device automatically detects ailing rechargeable batteries, and initiates a refresh program which gently "revives" the batteries.
Automatic shut-off: State of the art microprocessor-controlled charging technology with multiple overcharge protection guarantees optimally charged batteries and a gentle charging process.
Quick charge: The Energy 16 Plus automatically determines the optimal charging current for the inserted batteries and charges them with up to 1000 mA in a rapid charging process.
Individual monitoring: Each battery is individually monitored during charging, and individually charged to its maximum capacity.