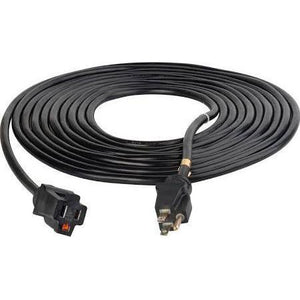 12/3 AWG
3 conductors contain 65 strands of 30 gauge 100% copper wire.
SJTW thermo vinyl coldweather compounded jacket guarantees the cord not to crack nor become brittle, and remain flexible in temperatures below freezing.
Jacket resists oil, grease and ozone, and features an F2 rating for flame resistance.
Outside jacket rated at 300 volts.
All cordsets come with molded-on connectors, standard 3-prong U/Ground type, 125 volt with the following amperage rating:
Molded-on connectors are heavy duty, weatherproof, waterproof and unbreakable.
Meets all NEMA requirements.
Manufactured in compliance with OSHA standards.
UL and cUL Approved