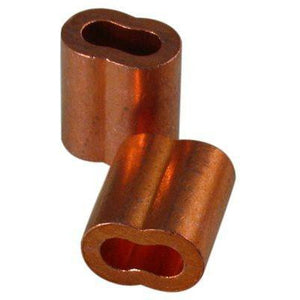 Sleeves or ferrules are used to create loop ends on cable assemblies, but they can also be used to attach two assemblies together. The hourglass (duplex) shaped sleeves allow for the smoothest swage (crimp). Extruded and Heat Treated for best cold-forming properties.

Sleeves size must match the cable diameter for proper installation.

Always crimp with appropriate swaging tool.

Copper Sleeves work with galvanized and stainless cable.