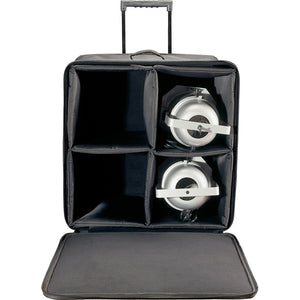 Used - Like new
These cases are untouched items in perfect condition. Original plastic protective wrapping is slightly torn, but the cases are intact and pristine. There are absolutely no signs of wear on the cases.
G-PAR SERIES
Compact 600-Denier nylon
Collapsible construction
Individual compartments for par cans
Built-in wheels and pull-out handle
Holds 4 Par-64's
Interior Length: 24.5 "
Interior Width: 24 "
Interior Height: 19.75 "
Exterior Length: 30.5 "
Exterior Width: 28 "
Exterior Height: 20 "
Exterior Weight: 33 lbs