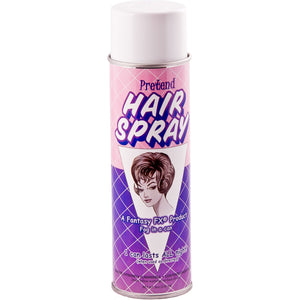 **Please Note: This aerosol product can only ship via ground shipping**
Perfect for your production of Hairspray!  These can's look like they are straight from 1960's to create the perfect effect.  Used both on Broadway and the movie- this is one effect you can't live without.
A portable and inexpensive alternative to fog or haze machines, creating beams of light or the appearance of hot steam or smoke, Fantasy FX can safely add a dreamy (or eerie) even atmosphere to a room or make light beams or laser beams come alive. It makes the appearance of fog, haze, or steam effects quickly, easily and safely.
Used in movies (Entrapment Sean Connery & Catherine Zeta-Jones) and stage plays (Hairspray as the hairspray prop), by DJ's for mirror ball beams of light circling an entire dance floor, laser beam light shows and laser tag arenas, by CSI, FBI, CIA, Sheriffs and Police for ballistic visual enhancement of bullet travel, traveling parade props as steam in dragons nose, or floats with steam stack, steam kettle props at theatres and live stage shows, dreamy sequences and much, much more for over 20 years.
The can comes with a push button top for horizontal spray (can apply the handle for a gun type use) or a snap-down top for a hands free vertical spray that's continuous (you can snap the top up for later use). Each 30-second spray will last about 30 minutes. Fill a dance floor room up to 15 times with one can! Safe, non-toxic, non-irritating, ozone safe, no cfc's, meets EPA standards, ships ground UPS ORM-D.