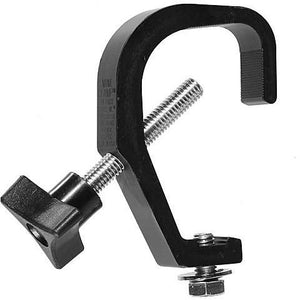 The Mini-Clamp is perfect for PAR 38's, Pin Spots, and other small fixtures. The clamp is made from an aircraft grade aluminum extrusion with micro-grooves that conform to the pipe for real gripping power.
The Mini-Clamp will grip from 3/4in to 2in tubing. Pipe bolt is 3/8in-16 TPI x 2in Black Plastic Knob. Yoke bolt is a 3/8in-16 TPI x 3/4in long. SWL is 150 pounds,70kg, yet the Mini-Clamp weighs less than 6 Oz.!
There is a one inch difference in the short handle #MNBTV.
Download Spec Sheet (PDF)
Minimum Size
3/8in pipe, .675in OD
Maximum Size
1.5in pipe, 1.9in OD, 2in OD Truss Tube
Safe Vertical Working Load
150 lb 70kg